Engage! - Minnesota church expo

Resources, training, and continuing education to strengthen local churches. Exhibits, fellowship, and inspiration.
This is what people had to say about past ENGAGE! Programs:
"It was a mind-blowing interactive session that will help you make the right decisions in seeking to build a healthy life and relationships."
"The keynoters are amazing brothers!"
"The format and content of this conference were excellent!  I especially appreciate the de-emphasis on large group formats and the deep practicality.  I will be recommending this in the future."
"The Meeting of Minds format was highly practical and applicable to ministry leaders--greatly appreciated!"
"The Meeting of Minds format was excellent for more content, questions, and interaction."
"The conference was generally well-thought through and the needs of society addressed."
"The children's ministry workshop was so wonderful and it helped me to wake-up for boys and girls."
"Loved the concept that the Meeting of Minds offers...to have 3 approaches to the same overall topic."
"This was a very good learning experience for me.  I've learned a lot of good things that I can use in my ministry."
"Really liked the Meeting of Minds format."
"I am new to Minnesota and had no contact with you all.  The only reason I came (from a human perspective) was to have time to hang out with my young staff guys.  Wow!  God spoke to me directly multiple times.  This was the best one-day event I've ever attended. Thank you!"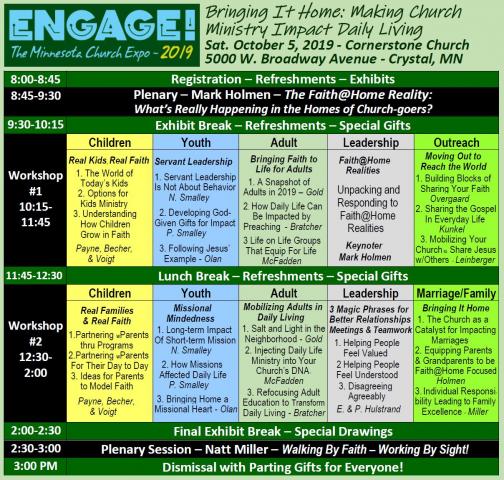 ENGAGE! 2020 - October 3, 2020
Cornerstone Church - Crystal
Now being planned...and you are welcome to be
a part of the planning...see training needs survey below.
Training Needs Survey and Sponsor Church Application
For 2020 MCMA Minnesota Church Expo - ENGAGE!
October 3, 2020 - Cornerstone Church - Crystal
ENGAGE! - the Minnesota Church Expo has been a conference offered by MCMA for many years that has provided training, continuing education, networking, and resource exhibits to help church leaders do their work more effectively.  It has blessed hundreds of churches and thousands of pastors and leaders.  Note the impact this program has had based on the testimonies you can read above.
For our 2020 program, you are welcome to help craft the program to meet the training needs of your church, while securing a special discount on registration for a delegation from your church.  Your Sponsor Church fee of $200 secures an unlimited registration Church Pass for this event.  Please note below the program grid from the 2019 program to remind you of the breadth and scope of the program.  Please complete the form below and submit it to us.
Please submit below the top three training needs of your church.  They can be related to any ministry issue or area, including children, youth, adults, worship, leadership, missions, outreach, etc.  List these items below and be as specific and detailed as you can be.  We will make every effort to address these needs in the ENGAGE! program we are developing.  Your $200 Sponsor Church fee can be sent through an online donation on our homepage or by check to MCMA sent to PO Box 1186 - Minnetonka, MN  55345.
SURVEY & SPONSOR CHURCH APPLICATION DEADLINE:  MARCH 31, 2020